The New Ford F-250 Brings Immense Power to Berwick, PA
One of the larger and more glaring gaps in the consumer truck market are trucks that are small and powerful enough to perform truly heavy-duty work without needing a CDL license. A majority of standard-sized trucks are fine for light construction work, but they are usually not enough for the professional contractor or those with a need to tow more than a bed of mulch or a small ski boat. Fortunately, Ken Pollock Ford has stepped up to into that space in a big way with the new Ford F-250 Super Duty.
The F-250 has a lot of power hiding under its hood. Let's take a brief look at the various engines available for the F-250 and what they produce in terms of power and their towing capacity.
6.2-liter Flex-Fuel V8 Comes Standard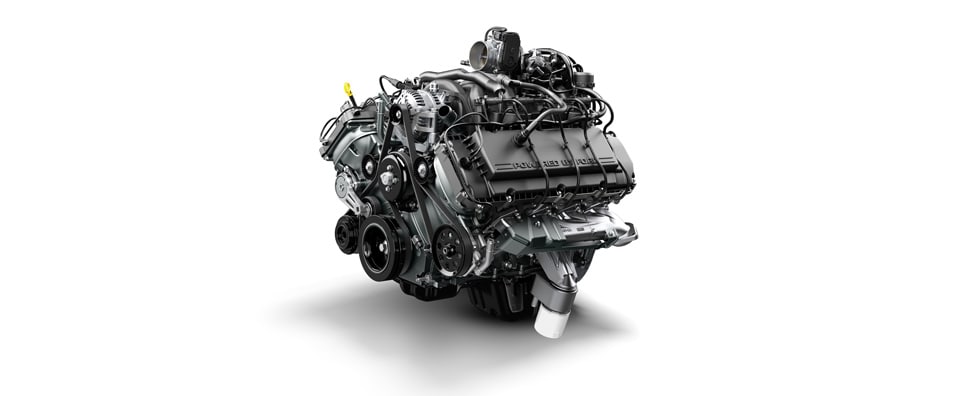 The Ford F-250 really delivers the goods right from the start. All F-250 models will come standard with this powerful 6.2-liter V8 that is equipped with a flex-fuel system that allows you to run regular gasoline, ethanol, or mixtures of the two. This flexibility can lead to the possibility of savings depending on various fuel costs.
This engine is engineered to deliver peak torque at the beginning of the acceleration process at low RPMs, which is the moment that the demand for torque to tow things is at its greatest. It continues to maintain a high level of torque up through the midrange of RPMs before reducing once cruising speeds have been reached to maximize efficiency. When combined with a state-of-the-art six-speed automatic transmission designed to help maximize that power and towing capability.
Now let's get to what we really want to know, the raw numbers. The 6.2-liter V8 checks in with an impressive 385-horsepower and 430 pound-feet of torque. This translates into a max towing capacity as much as 13,300-pounds. This is usually more than enough to tow even large campers and boats, or a trailer full of heavy-duty construction equipment.
6.7-liter Power Stroke V8 Turbo Diesel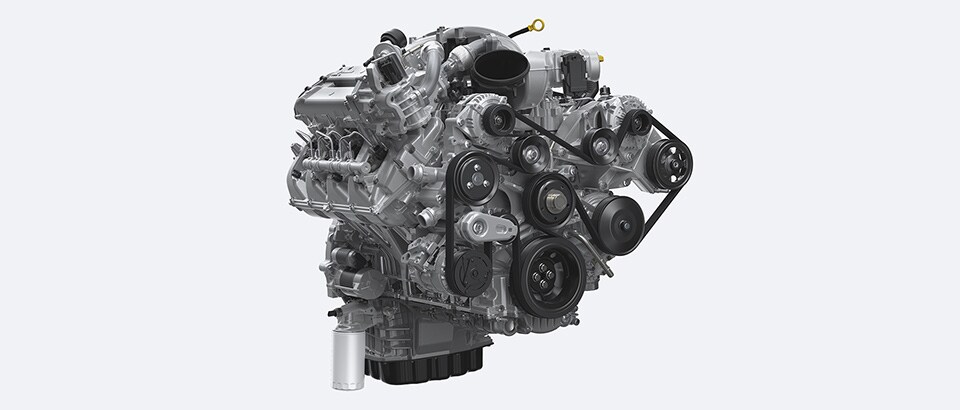 While the standard engine is impressive, some folks will need something that provides more power, even a lot more power. Additionally, the reliability and performance of diesel in large trucks have long been known, but at the consumer level, it can be difficult to find a diesel engine that has those characteristics. Well, with this wonderfully engineered Turbo Diesel from Ford, consumers have at least one quality choice.
The Turbo-Diesel V8, when paired with the specially designed 10-speed automatic transmission, yes you read that right, 10-speeds, this powerful engine delivers a whopping 475-horsepower and an almost unbelievable 1050 pound-feet of torque.  Boasting a max towing capacity of 37,000-poinds, this truck will pull just about anything you could ever need it to.
7.3-liter OHV PFI Gas V8

Rounding out the available engine options is one of the most powerful gasoline engines found in a consumer truck today. While it may not produce such awe-inspiring raw power numbers as the Turbo Diesel, this engine is certainly no slouch for those where diesel either isn't an option or not the best choice for their needs.
This powerful V8 packs a mighty 430-horsepower under the hood, ready to tow most of what you would ever want to with 475 pound-feet of torque along for the ride as well. Depending on the equipped packages or options, this means a real-life towing capacity of up to 21,000-pounds. That number also happens to be the best in its class from a gasoline-powered full-size pickup.
Put Your Foot To The Floor In One Today
Now that you have seen exactly how many rumbling, ready to lay rubber horses reside under the hood of the new Ford F-250, it's time to experience what that feels like in person. Stop by our showroom at Ken Pollock Ford today for a test drive.  We look forward to meeting you!