Stand Out with a Custom Lifted Rocky Ridge Truck
The Ford lineup is full of desirable pickup trucks, but if you want to drive a unique model, then consider buying a custom lifted Rocky Ridge truck instead. Ken Pollock Ford is an authorized Rocky Ridge Trucks dealer in Berwick, Pennsylvania. That means customers like you will get direct access to this first-class collection when you visit us!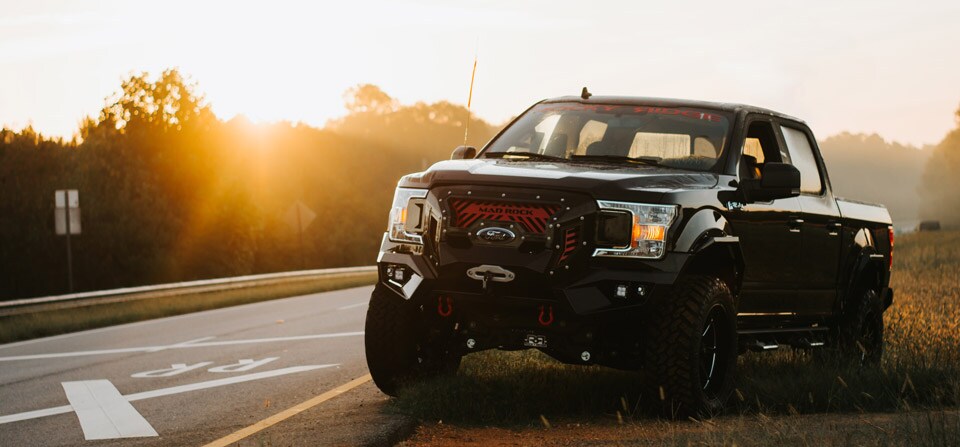 What is Rocky Ridge?
Rocky Ridge is a company that specializes in upgrading popular vehicles in the market like the Ford F-150 and Ford F-250 Super Duty. Established over 30 years ago, you can trust its custom lifted trucks to live up to your expectations. In fact, the manufacturer is known to provide some of the best lifted 4x4s because it remains committed-first and foremost-to customer satisfaction.
Highlights of Our Custom Lifted Rocky Ridge Trucks
Custom lifted Rocky Ridge trucks are different from standard models in two ways: capability and style. Enhanced to customer specifications, products can drive just as confidently off-road as it does on the highway. That means you can trek through a mountain pass with dirt roads and mud pits with ease. Finished with stylistic touches that add extra flair, a Rocky Ridge model is an attractive option, too.
Plus, all Rocky Ridge Ford packages come with an extended, 3-Year/36,000-Mile warranty so you have peace of mind when you take home a custom lifted Rocky Ridge truck from our Berwick dealership!
Your Options for a Rocky Ridge Custom Lifted Truck - Ford F-150 and Ford F-250
No matter your driving preference, you can count on finding a custom lifted Rocky Ridge truck that will satisfy you because the company modifies Ford trucks in a myriad of ways. You will find models that are incorporated with state-of-the-art 4x4 systems for increased proficiency alongside others that are styled with elements like full-armored bumpers for a more aggressive appearance. Just choose between a Ford F-150 or Ford F-250 and the package you like best.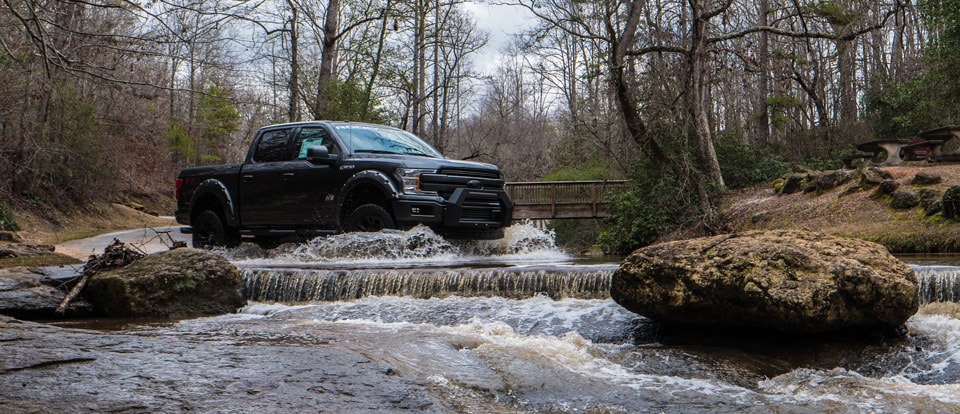 Custom Lifted Rocky Ridge F-150 Truck
Available in the following Packages: Altitude, Alpine, K2, Stealth, Stealth XL, and RSC721
A custom lifted Rocky Ridge F-150 will take your experience to the next level. Installed with a bigger suspension system and an off-road wheel and tire package, you can trek through obstacles like a champ. There are also exterior embellishments. For instance, select trims come with signature badging, stainless steel dual exhaust, bull bar with LED lights, and more. The result is a fully functional and visually stunning pickup truck.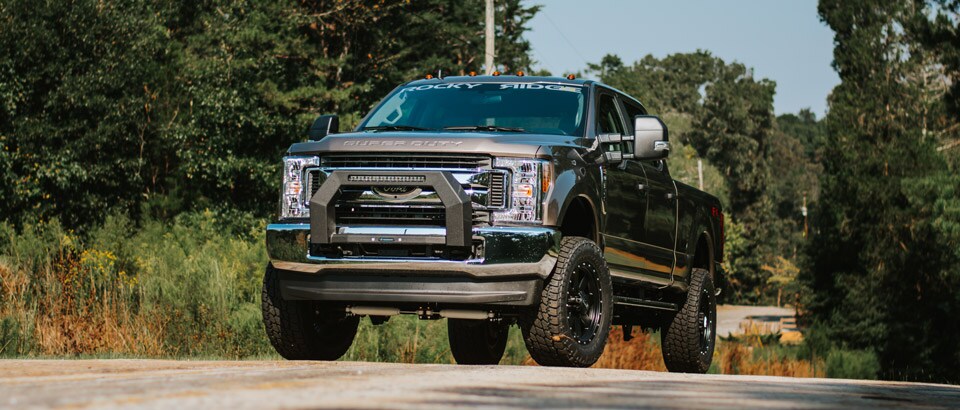 Custom Lifted Rocky Ridge F-250 or F-350 Super Duty Truck
Available in the following Packages: Altitude, K2, Stealth, and Stealth XL
Prefer an even bigger option? Then a custom lifted Rocky Ridge F-250 or F-350 Super Duty is right up your alley. With one of the packages offered, you can amplify a model with the addition of bigger wheels, all-terrain tires, a Smittybilt Wireless Winch, and other components that will improve its performance. Coupled with leather seating with a heating function, tailgate emblems, LED spot lights, and other eye-catching details, this heavy-duty truck has what it takes to please you.
Contact Ken Pollock Ford for Offers on a Custom Lifted Rocky Ridge Truck Today!
Want to learn more about the custom lifted Rocky Ridge trucks for sale at Ken Pollock Ford? Then contact us or stop by our Berwick truck dealership. Our representatives will give you additional information regarding the models now available on-site. Otherwise, we can help you place a personalized order so you get exactly what you want from your next Ford F-150 or F-250.
Sorry, there are no matching vehicles in stock at this time. Please contact us for more information or submit a vehicle search request using our CarFinder tool.
Reset Search