The 2023 Ford F-150 and Ford Ranger are both excellent choices for anyone searching for a new truck for sale nearby. The legendary F-150 needs no introduction, as it's well known for its ruggedness, versatility, and impressive towing and hauling capabilities. Meanwhile, the Ford Ranger is an athletic pickup that provides a perfect blend of functionality and maneuverability, for both on- and off-road adventures.
From your favorite trails to hard days on the job, Ford trucks like the Ranger and F-150 deliver in any scenario. Ready to decide on your next ride? You can compare the Ford F-150 vs. Ford Ranger online, then stop by our Ford dealership near Danville for a test-drive!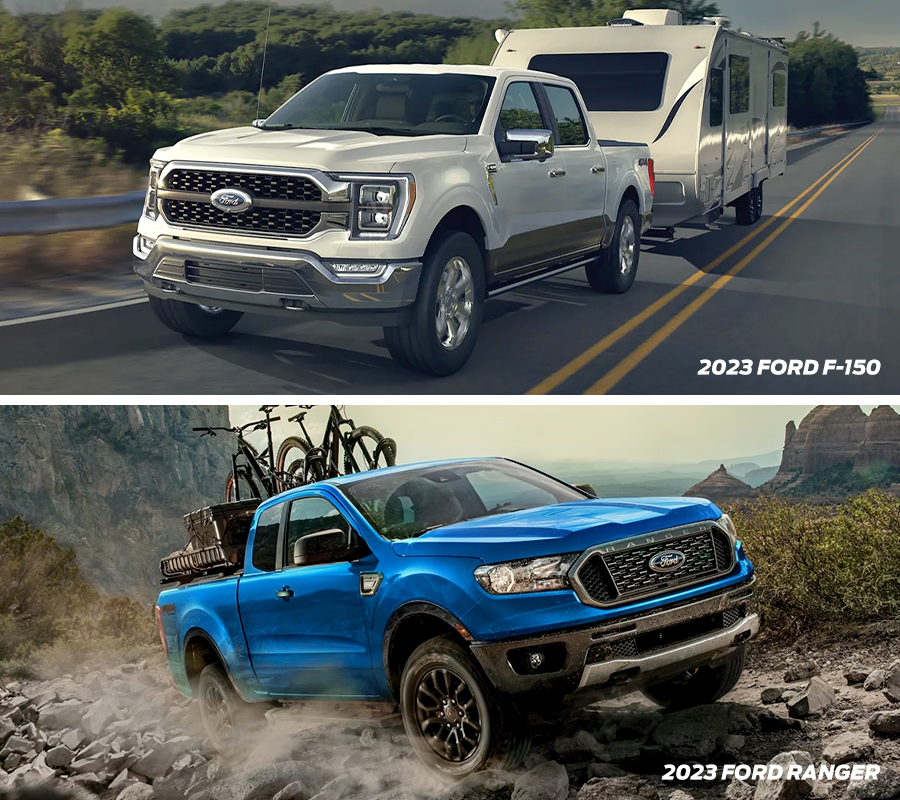 How Much Bigger Is the F-150 than Ranger?
The 2023 Ford F-150 is a light-duty truck that comes with a maximum wheelbase of 164.1 inches, which is more than the Ford Ranger and its 126.8-inch wheelbase. The F-150 stretches out to 250.3 inches long, giving it the edge in size over the Ranger. All in all, the top-selling F-Series model is the bigger of the two options.
What's the Difference Between the Ford F-150 & Ranger?
In addition to their varying sizes, the 2023 Ford Ranger and F-150 have a few other differences to take note of. Those who need a truck for towing will find the new F-150 and its 14,000-pound max tow rating to be to their liking. The 2023 F-150 payload capacity is equally impressive, as is its standard 290 horsepower -- a mark that the lively Ford Ranger engine nearly matches. 
Searching for a Ford hybrid truck in Berwick? Visit the Ken Pollock Ford sales department to learn more about the new F-150 Hybrid mpg ratings, engine specs and more.
2023 Ford F-150
Class: Light-Duty
Max Wheelbase (in.): 164.1
Max Length (in.): 250.3
Max Towing (lbs.): 14,000
Max Payload (lbs.): 3,310
Standard Horsepower: 290
Hybrid Option: Available
2023 Ford Ranger
Class: Midsize
Max Wheelbase (in.): 126.8
Max Length (in.): 210.8
Max Towing (lbs.): 7,500
Max Payload (lbs.): 1,905
Standard Horsepower: 270
Hybrid Option: N/A
Ford Trucks for Sale Near Danville, PA
Whether you want to secure a Ford F-150 XLT price you're satisfied with or compare 2023 Ranger XL lease terms with an expert, we'll be happy to take you through all the advantages these new truck models provide. Check out our F-150 vs. Ranger comparison and contact Ken Pollock Ford today!