The New Ford F-150 Delivers a Robust and Modern Full-Size Truck Experience
Ford. If there's an automaker out there more synonymous with high-performance pickup trucks, you'd be hard-pressed to find it. While its competitors have worked hard to dethrone Ford's truck lineup, trucks like the F-150 have remained marketplace bestsellers by offering a winning mix of high performance combined with the design and features that draw on the best that the modern-day industry has to offer.
The Ford F-150 is the perfect example. The next step forward after a major redesign last year, the new F-150 provides a range of impressive model options that can provide everything from everyday power to off-roading ability.
Diverse Trim Options Suited to Every Kind of Driver
If you're interested in a new Ford F-150 model, you'll find an impressive array of trims waiting for you. These include:
F-150 XL
F-150 XLT
F-150 Lariat
F-150 King Ranch
 F-150 Raptor
F-150 Platinum
F-150 Limited
Which model is right for you depends on what you're looking for. Something like the F-150 XL is ideal for drivers who want something more affordable and practical. If you're more interested in an inexpensive work truck, than the XL might be just what you need.
On the opposite end of the spectrum, however, models like the F-150 Raptor are tooled from top to bottom to deliver premium features and high performance. Designed specifically for drivers interested in off-roading, it delivers an experience that's anything but basic.
And that, at its core, is where the strength of the F-150 lies. While you can count on every F-150 to deliver a baseline level of high performance and high quality, its differing models use that baseline as the foundation to build an array of different experiences.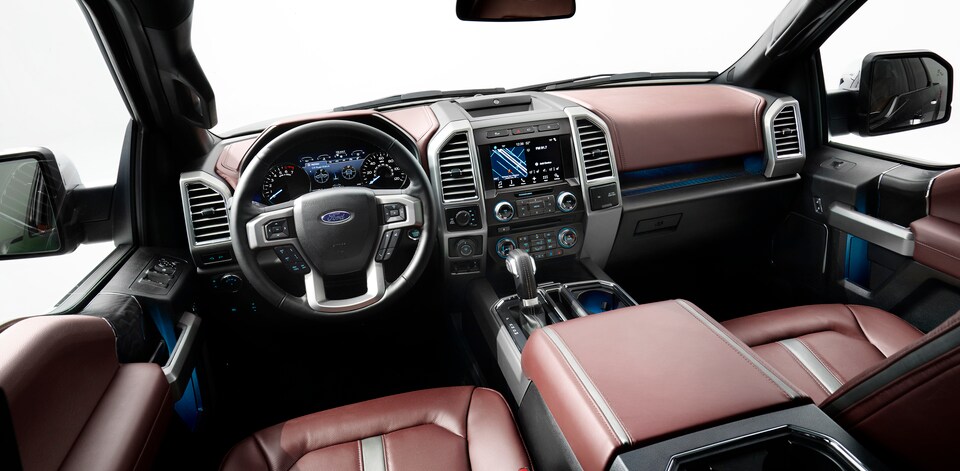 That's reflected in the F-150's wide selection of features. Depending on which branch of its trim tree you climb to, you could enjoy everything from heated/cooled/massage seating to advanced safety systems designed to intervene on your behalf in dangerous situations. The F-150 can come with as much or as little as you want it to.
Powerful Powertrains Tailor-Made for High Performance Driving
What would a good pickup truck be, however, without a solid lineup of engine options? Luckily for F-150 drivers, the model leaves nothing to worry about when it comes to its available engines.The F-150 can come equipped with one of the following:
3.3-liter V6: 290 horsepower, 265 pounds-feet of torque, 19/25 miles per gallon
2.7-liter twin-turbocharged V6: 325 horsepower, 400 pounds-feet of torque, 20/26 miles per gallon
3.0-liter turbodiesel V6: 250 horsepower, 440 pounds-feet of torque, 22/30 miles per gallon
3.5-liter twin-turbocharged V6:  375 horsepower, 470 pounds-feet of torque, 18/25 miles per gallon
5.0-liter V8: 395 horsepower, 400 pounds-feet of torque, 17/23 miles per gallon
3.5-liter twin-turbocharged V6: 450 horsepower, 510 pounds-feet of torque
When it's properly equipped, the F-150 can offer a best-in-class towing capacity of 13,200 pounds. It's likewise capable of a best-in-class payload rating of 3,300 pounds. While not every F-150 model and powertrain can achieve that peak, there isn't an entry in the lineup that's not built to impress.
Come and Learn More About the Ford F-150 Today
Does the F-150 sound like the sort of truck you're looking to buy? The best way to find out for sure is to get in touch with the sales team at Ken Pollock Ford Lincoln in Berwick, PA. Our friendly team of Ford-brand experts would be happy to run you through everything this superior full-size truck brings to the table.