Charge Your World
Reserve Your Ford Mustang Mach-E
Are you ready for a new type of experience? The new Ford Mustang Mach-E is unlike any Mustang made before. It offers a breathtaking blend of performance and technology to go along with its evolved Crossover SUV exterior. With its debut, it will redefine the way you look at a Mustang. At Ken Pollock Ford we are thrilled to offer you the opportunity to reserve your own Mustang Mach-E.
Reserve Your Mustang Mach-E at Ken Pollock Ford
2021 Ford Mustang Mach-E
Electrified Performance and Comfort
With the Ford Mustang Mach-E, technology and performance are at the forefront. The Mustang Mach-E can achieve up to between 230 and 300 miles of range on a single charge. A quick charge element adds 60 miles of range that in just under 10 minutes of charging. An available 480 horsepower will propel you from zero to 60 miles per hour in 3.5 seconds. In addition, three distinct driving modes give you the ability to make every drive an adventure.
Inside the Mustang Mach-E, occupants will experience a wave of comfort, with seating for up to five people and up to 60 cubic feet of cargo space. Since the battery for the 2021 Ford Mustang Mach-E is underneath the floor, under the hood of the Mustang Mach-E lies a front trunk with an additional 4.7 cubic feet of storage. It can also be removed and washed to clean up any mess.

Trim Level Options
The broad range of trim level options allows every driver to find their ideal combination of features to suit their lifestyle. Browse the lineup:
Select: This model features a 230-mile range, beautiful 18-inch wheels, available all-wheel drive, and standard rear-wheel drive. Find the standard Ford Co-Pilot360™ 2.0 driver's assistance system that captivates the road with impressive capability.
Premium: Bump things up with the 300-mile range found in this electric engine, alongside advanced technology features for a connected ride. Also, upgrade to all-wheel drive on this model for off-road capability.
California Route 1: Rear-wheel drive defines the powerful capability of this Ford Mustang Mach-E model. To top it off, you'll find an extended range battery with that impressive 300-mile range that sets you apart from other electric models in its class.
GT: A 250-mile range and heart-quickening acceleration make for an impressive powertrain amidst this vehicle. Standard all-wheel drive and 20-inchs wheel define the exterior lines of this model.
First Edition: This is a limited model that offers unique color options including the striking Grabber Blue Metallic body. Aluminum details, red brake calipers, and special scuff plates make for a one-of-a-kind ride. Expect a 270-mile range and standard all-wheel drive within this beautiful model.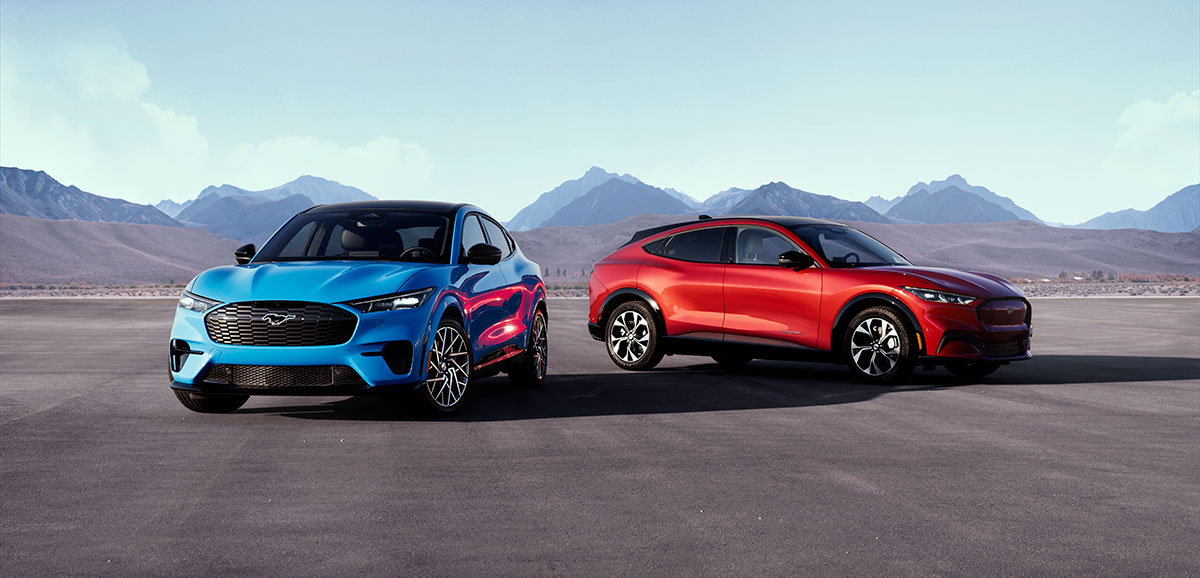 We Are a Certified Electric Ford Dealership
Feel free to call or email our sales team to get your reservation in for the all-new 2021 Ford Mustang Mach-E. Our dealership also offers certified electric vehicle repair, as well as an onsite charging station. Whenever your vehicle needs maintenance or a recharge, our dealership near Berwick is more than happy to have you come in. We look forward to getting you on your electric journey with a Crossover SUV that carries on a legendary tradition.