A Higher Level Of Performance: ROUSH Mustangs For Sale At Ken Pollock Ford
The Ford Mustang is unrecognizable and has been for years as the original American muscle car hitting the road back in 1964. Each new model year brings new changes, more power, and enhanced performance and here at Ken Pollock Ford, we are proud to stock a selection of special ROUSH Mustangs. ROUSH Performance vehicles are custom crafted for a higher level of performance, unique decals and exterior features for one of a kind style. We have both Stage 1 and Stage 2 model year Mustangs in stock.
Stage 1 ROUSH Mustang
Efficient and powerful performance has a new name thanks to the impressive power of the 2.3L EcoBoost engine powering the Stage 1 ROUSH Mustang. The 2.3L turbocharged four-cylinder engine produces 310 horsepower and 350 lb.-ft. of torque and is equipped with high-performance, stainless steel exhaust system delivers increased sound presence while reducing back pressure. The Stage 1 Mustang will turn heads everywhere it goes not only because of the powerful roar of the Mustang, but with racing-inspired design that captures the Mustang's timeless American appeal. As well as embodying the Mustangs powerful performance. The Stage 1 ROUSH Mustang is also equipped with:
Dual Black Tip Performance Exhaust System
High Flow-Upper Grille with "1" Badge
Body Side Scoop
Mustang GT Performance Pack Wheels
USA Flag Graphics
Front Chin Spoiler with Wheel Shrouds
Stage 1 Serialized Engine Bay Plaque
Hood Strut Lift Assist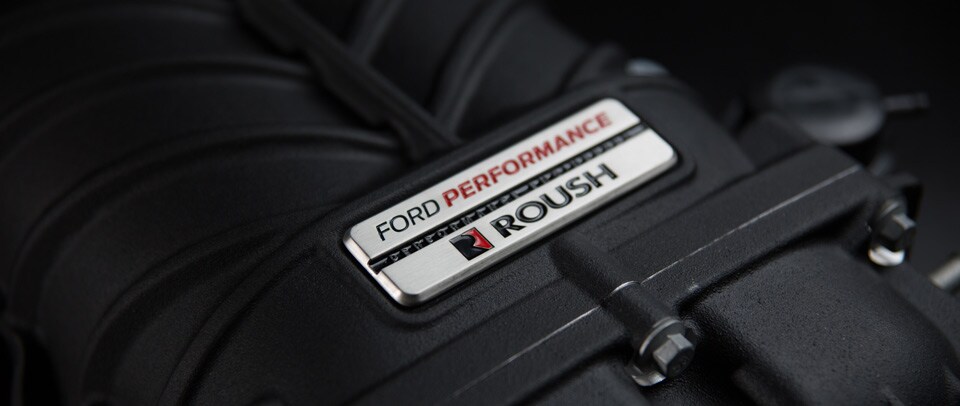 Stage 2 ROUSH Mustang
Under the hood of the State 2 Roush Mustang is a powerful 460 horsepower, 5.0L V8 engine. The Stage 2 Mustang is available with ROUSH Active Exhaust System that allows you to tune both the tone and flow of exhaust via a smartphone for a one of a kind roar from a variety of quad-tip exhaust packages. The Stage 2 Mustang comes equipped with a ROUSH race-tuned suspension and custom Continental ExtremeContact™ Sport tires to provide unequaled grip and cornering, boasting 1.07 lateral Gs on the skid pad.  The Roush suspension also includes adjustable high coilovers and is available with optional fully-adjustable 3-way suspension offers damping and rebound adjustment for serious handling enthusiasts. Stage 2 ROUSH Mustangs also feature:
Aero Corner Pockets
Hood Heat Extractors
Stage 2 Serialized Engine Bay Plaque
Rear Valance Aero Foils
ROUSH Front Windshield Banner
ROUSH Design Instrument Gauge Cluster
Front Chin Spoiler with Wheel Shrouds
ROUSH Performance Mustangs are truly one of a kind and the only way to experience the higher level of performance is to make your way down to Ken Pollock Ford for a test drive. Only from behind the wheel can you really feel the powerful and gripping performance that comes from years of custom engineering.
Interested in a ROUSH Mustang? Our sales team can help you get into the high-performance ROUSH Mustang of your dreams. Contact us today!